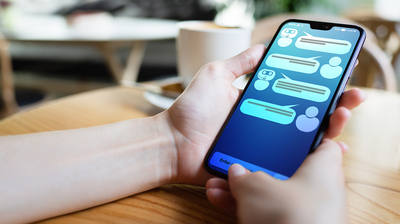 With so much in the world leaning toward automation, it's no surprise that bots and chatbot technology are everywhere, especially in the world of digital marketing strategies. While it's still necessary to be hands-on with any marketing strategy, bots and automation certainly don't hurt when it comes to aiding in customer satisfaction, managing processes, and generating leads and customers.
One great automation strategy is chatbot marketing. Chatbot marketing is used with many platforms like Google and Bing AI chatbot.
What is chatgbt? Chat ai gpt is a digital marketing strategy that helps to automate customer communication and will answer customer questions, up to a certain point, before the customer or user is directed to a real person for assistance. Digital marketing professionals are utilizing aichat more and more to develop digital marketing strategies for their clients.
But there's more to it than that.
What Are Chatbots?
A chatbot is a computer program or software that automates conversation with a user. It is much like using virtual agents to assist your users. They can be programmed with different responses based on what a user chooses or requests. Chat GBT is the most commonly used chatbot program to provide seamless customer support. For example, a chatbot can ask a user which of a business's services they want to learn more about and provide a response or lead the user to better information based on the user's choice.
Advanced bots are powered by AI (artificial intelligence), but most chatbots are programmed with specific responses and built-out conversation trees to encourage customer engagement. There are many third-party services, like an ai bot writer, that make it easy for marketers and business owners to build out their own chatbot conversation trees with large language models without needing special coding or development skills. One such third-party service to help with creating your language model is bard ai chat GBT. A bard ai chatbot is another conversational based chatbot that is designed to determine customer expectations and provide useful information about your website.
A conversation tree covers every possible customer response and tells the chatbot what to say based on that response. This can be personalized to great lengths by the details you provide within your conversation tree and can be used for many fast digital marketing seo strategies. Some examples of ways you can use a conversation tree are with romantic chatbot platforms, digital advertising, and for automation paid search advertising as well depending on your businesses needs. Here's an example of a basic conversation tree:
Yours would, of course, pertain to your specific business and the questions you want your bot to ask your customers just like as if they were speaking directly to your customer support team.
What Is Chatbot Marketing?
Even if you are not looking for a digital marketing career understanding some basic principles is an asset for any company and you don't even have to go through a digital marketing boot camp to grasp the concepts! We've highlighted the main key points for you below:
Chatbot marketing is a strategy that utilizes a chatbot to market the business. This strategy really came into popularity when Facebook opened up the ability to integrate bots with its Messenger feature. Previously, many Facebook Page Messengers were going completely unused. Occasionally, customers would submit questions or concerns, and even less often would a business actually respond.
A chatbot marketing strategy makes sure that your customer service requests aren't going unanswered, and many can even help with lead generation and sales.
How Can You Use Chatbots in Marketing?
There are many different ways to take advantage of a chatbot marketing strategy in your digital marketing. Bots can be incredibly useful for automating basic processes, answering common customer questions, and even making sales.
Let's learn a bit more.
Chatbots for Customer Service
If your business receives a lot of customer service requests through Messenger (or if you want to start utilizing Facebook Messenger as a customer service channel), a bot can be a huge help. You can create a chatbot that helps customers narrow down their customer service issues to a specific category before directing them to the right person to talk to or the correct answer.
Chatbots for Sales
A chatbot can help to lead people into your sales pipeline. Whether you use it to set appointments for consultations or to collect emails for your newsletter, it can be a great start to a customer journey. Many customers don't want to pick up the phone and call, so adding an easy way for them to start communication online can be helpful.
Chatbots for FAQ
Let customers or potential customers ask common questions of your chatbot. Programming a bot with a list of potential question options and their corresponding answers is a great way to offer up information to your audience in a more interactive setting. It can be fun for customers to engage with your chatbots, making them more likely to choose your company over a competitor.
Chatbots for Shopping
Facebook Messenger chatbots will even allow your business to provide an in-app shopping experience. You can customize it to allow customers to browse through products and even make purchases directly within the chatbot.
Chatbots for Marketing
Of course, there are so many different marketing tactics using a chatbot. You can use it as a lead nurturing device. Once someone willingly messages your chatbot, you're able to continue sending them helpful and informational messages in an effort to nurture them into making a purchase or signing up for services. This can be a powerful tool in your digital marketing arsenal (even more powerful than email marketing) because it's an even more direct form of one-on-one communication.
What Not to Do in Chatbot Marketing
It's important to remember that there are still several don'ts when it comes to chatbot marketing. While it's a powerful and effective strategy, it still requires some work from your marketing team or agency.
First of all, don't let your bots take over your marketing completely. For a strategy to be successful, there has to be some kind of human touch. So while automation can be extremely helpful, it cannot be the only way to communicate. Whether you have your chatbots start the conversation that leads to a human or you have your team regularly checking in to ensure the bots are doing their job properly, it's important to remember that chatbot marketing is not a "set it and forget it" kind of strategy.
Second, you don't want to overdo it when you're using your chatbot as a marketing or nurturing tool. Remember that it is a truly amazing tool to have, and it's useful to be able to directly message customers. So you don't want to abuse that power. If you send too many messages out to your audience, everyone is going to opt out. They're not going to want to see your business's spam in their Facebook Messenger inbox.
Chatbot marketing is a popular and high-converting digital marketing strategy. It definitely takes a bit of setup, especially when creating conversation trees and using a third-party software to program your chatbot, but the initial time and cost investment will be well worth it if you use this strategy correctly. You can now even invest in Chat GBT through their chat gbt stock options! This new phenomenon came about not only by the chatbot popularity but also from Chatbot Plus; a subscription-based service where you will have a unique chat gbt login and account to personalize your chatbot marketing strategies. You can also try chatgbt free to give it a try!
At Connection Model, we have worked with many clients to launch their chatbot efforts and have developed a Conversational Marketing e-book to highlight the benefits of AI and chatbots. Consider it your complimentary advertising bootcamp!
To learn more about how you can use chatbot marketing in your specific business, contact us today.
Written By: David Carpenter
Published on November 13, 2020
Last modified on August 7, 2023