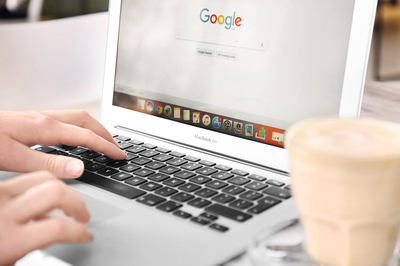 When you google your business name, your website is typically the first result that comes up. So why would you bother putting ad money from your digital marketing budget behind promoting your business name as a keyword? This practice is called branded PPC, and it utilizes what we call branded keywords.
Regardless of how counterintuitive it might seem at first, it's actually a very smart strategy to take advantage of branded PPC. There are many reasons that you would want to put ad money behind your branded keywords, even if your website is already the very first organic result.
Let's talk about a few of these different reasons.
1. Beat out the competition.
Your competitors might be bidding on your brand name in an effort to put themselves ahead of your website and entice your customers or potential customers to their business instead. If your company isn't bidding on those keywords, your competitors will definitely be positioned ahead of your organic results.
You don't want to make it easy for your competitors to rank on your company's branded key terms. Putting part of your ad budget behind branded PPC is important to strengthen your online presence and ensure that your customers aren't finding your competition before they find you.
2. Switch up your messaging and landing pages.
When your website shows up in organic search results, it appears alongside your set meta title and description. You don't want to change these as you've likely worked hard to rank for the key terms they contain. However, when you're creating branded PPC campaigns, you're able to update your messaging as often as you want, including the landing pages to which your links take your audience.
If you're running a special for new website visitors or promoting different services each month, you want to be able to switch up your ad copy. You can even change the landing pages to which those links lead. It's a good idea to send users to a page that covers what your ad talked about specifically, rather than a basic home page or services page.
So if you promote a $99 off discount for new customers, you want to send website visitors to a page that talks more specifically about that sale. If you promote a specific service the next month, the link should then switch to a page dedicated just to providing more information about that service and a contact form.
You can still place these different messaging points on your branded PPC campaigns and offer even more places for your audience to find out more about your business.
3. Offer more information about your business.
With branded PPC campaigns, you can also take advantage of ad extensions to include even more information about your business. There are several different types of ad extensions that allow you to add more for your customers to find, like your business phone number, locations, user reviews, additional pages on your website, and more.
Increasing the information within your ads also increases the amount of real estate your listing is taking up. If you have multiple ad extensions on your branded PPC ad, an active Google My Business presence, and several pages linked on your organic listing, your business's presence can easily take up the entire section of search results above the fold.
4. Increase your overall quality score.
Your account's quality score is based on how relevant your ads are to the key term. This is why it's such an important practice to ensure the keywords you're bidding on are included somewhere within your landing page. Otherwise, it looks like you might be bidding on keywords that aren't at all relevant to your business just to increase your reach or clicks.
Branded PPC campaigns are highly relevant. After all, it's likely that your own business name is listed in several different places on your website. It's in your website title, meta description, website copy, alt tags, contact information, and so much more. So utilizing branded keywords within your ad strategy is a great way to increase that quality score overall.
5. It's cheap.
Your brand name likely isn't a common keyword in your industry. The only people bidding on it are most likely to be you and your direct competition. That means there isn't a lot of competition for that keyword, and the cost isn't being driven up by a lot of traffic.
So even though you've got an entire branded PPC campaign set up, it's not actually going to be using a huge part of your digital marketing budget. Instead, you're able to dominate your brand SERP for a low budget and share as much information with those searching for your business upfront as possible. This helps your business to be more easily accessible and improves the user experience as your audience doesn't have to search everywhere for product/service/contact information.
The Bottom Line
Any good PPC strategy includes a plethora of relevant keywords, landing pages with specific information, and high-quality ad copy. A good PPC strategy also includes branded keywords so that you can strengthen your business's online brand and presence. If you're able to dominate your entire brand SERP, that's a lot of search engine spotlight on you and your business, and that's the goal.
Be sure to include a branded PPC strategy within your next batch of Google Ads so that you can increase traffic, click-throughs, and conversions. You get more bang for your buck when you bid on your branded keywords, and it's absolutely not a waste of your valuable digital marketing budget.
To learn more about PPC and creating a Google Ads strategy, contact us today. We'd love to chat about how we can improve your business's reach and online presence with search engine marketing.
Published on June 19, 2019
Last modified on December 15, 2020