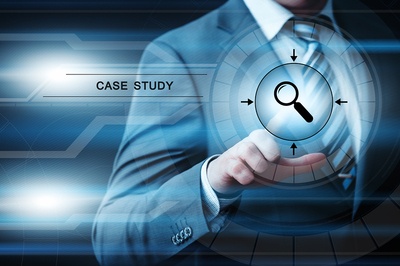 In order to generate new leads and sales, especially in a competitive business-to-business market, you need to be able to show proof of the success your business has seen in the past. Trust is essential to obtaining new customers and improving customer loyalty, and one incredibly powerful way to do that is by creating case studies.
A case study is a document that examines a customer's problem point and what your business did to help them resolve it. The case study explains the success the customer experienced because your product or service was used.
It's more than just a step-by-step, "here's what we did" kind of document.
Instead, a case study does a deep dive into the specifics of what the customer's problem was, and what the outcome was due to the work your business did. It's not always necessary to go into the nitty-gritty of the "how to" (after all, that's what you're selling!), but showing proof that your business has generated success is enough to help close a sale.
Top Benefits of Case Studies
Let's dive into a few more top benefits of case studies, and why it really is worth the time investment of putting them together.
1. Social Proof

Oftentimes a case study includes the name or business name of your customer, and even a testimonial, sharing their honest review of working with your business. This helps to build social proof; potential customers can read about an experience directly from the mouth of an existing customer.

2. Reusable Marketing Materials

Case studies provide your business with marketing materials you can share and promote over and over again. These are great to include on your website as sales material, or use as a lead magnet to incentivize email opt-ins for lead generation and lead nurturing.

3. SEO

If you publish your case study as a webpage or blog post on your website, Google and other search engines will be able to index it for keywords and increase your search engine ranking. Some businesses prefer to create their case studies in PDF or white paper format, but smaller, less intensive case studies can certainly be shared on your business blog.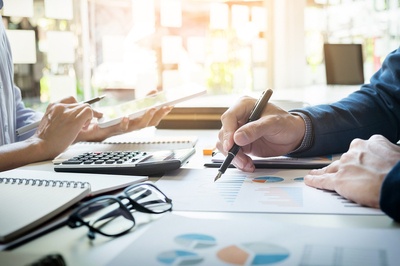 4. Completely Original Content

Whereas most business blog posts have been researched and rewritten on several different websites across the industry, a case study that your business creates is completely original and can never be reproduced. Other businesses can create similar case studies, but the core of the content is one hundred percent your own.
How to Create a Case Study
Creating a case study doesn't have to take a ton of time, either. You can put together a seriously compelling case study without a huge investment by following these steps:
1. Determine your case study's format.

This goes back to what we discussed under the SEO benefit: your case study can come in multiple shapes and sizes. You can do a micro-case study and publish it on your blog, you can put one into an interactive ebook/workbook form, you can place it in a white paper format, and so on.

So first things first, you have to decide what format you want your case study to have, and what tools you're going to need to create it.

- Blog Post Case Study: This is a smaller, more top-level case study that you're using as free content to post on your website for both marketing and SEO purposes.

- Downloadable Case Study: This is an ebook or white paper that you create in a PDF designer like Adobe Illustrator and email to potential customers, add as a downloadable on your website, or use as a lead magnet.

- Video Case Study: You can also create it in an entirely different format and instead utilize video to tell your story. If you have an in-house video production team, this could be extremely effective, especially in social media advertising.

- Infographic Case Study: Infographics are also popular methods of sharing case studies and other statistics. These perform well on visual sites like Instagram and Pinterest, and can be a beautiful way to portray your results.

Choose which format works best for your business and continue forward!

2. Determine your case study's objective.

What are you trying to demonstrate to your potential customers? Which aspect of what your business do you want to focus on?

Here are a few possible case study objectives to choose from:

- Helping a business become profitable

- Lead generation

- Increasing revenue

- Closing more sales

- Lowering overall business costs

and more!

Choose what you're trying to prove that your business can successfully do (and has successfully done!).

3. Find the right candidate.

Out of all your customers, which ones have seen some of the best results, and/or who would be willing to let you do a case study surrounding their partnership with your business? Although it's totally possible to publish an anonymous case study, the most powerful ones have actual numbers, names, and testimonials, so it's essential to discuss this with the customer and get their permission.

A few things to think about when finding the perfect case study candidate include:

Amazing results that your business has provided
Clients/customers who came to you from a competitor
Big names or big brands that are recognizable
Customers who have a good bit of knowledge about what you do and can speak to that in their quotes/testimonials

When reaching out to potential candidates you should be prepared to discuss your plans/goals you have in mind. Your customers will want to know how the case study will be used.
4. Outline your case study.

Once you've pinned down your candidate, your objective, and your format, you can start outlining your case study. Write out these points:

- Title: Name your case study in a way that highlights the most important points.

- Executive Summary: A short and concise paragraph summarizing what your audience will learn from this case study.

- Intro to the Subject: A quick introduction to the person or business that is the subject of your case study.

- Objectives: A summary of what the subject was hoping to achieve by working with your business.

- Your Work: A section detailing what your business did in order to meet those objectives.

- Results: A section detailing what the results were of your work, including a testimonial from the subject.
Once you've created your outline, you can flesh it out a bit more, add in supporting quotes, graphs, and other visuals, and publish your case study! Be sure to promote it online to help with your lead generation efforts and bring in new customers! Contact us to see a few of our own case studies.
Written By: David Carpenter
Published on October 05, 2018
Last modified on December 15, 2020