HubSpot Certified Partner - Seattle
First Platinum Partner and only one in Seattle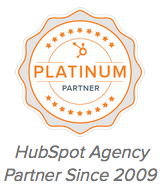 Seattle's Only Platinum Certified Digital Marketing Agency

At Connection Model, we take our relationship with HubSpot seriously. As one of HubSpot's first partners going back to 2009, we have garnered significant experience in helping our clients get started and grow their business using the Inbound Methodology.
Plus, we pride ourselves on ensuring our staff stays up-to-date on the HubSpot Platform and Inbound Strategies by dedicating time to staff training through the HubSpot Academy.

Working with an agency that has received HubSpot certification ensures that you are partnered with a winning digital marketing team. Connection Model is proud to be the only HubSpot Platinum partner in the Seattle area.
Why Working with a HubSpot Certified Digital Marketing Agency Makes Sense
HubSpot offers a partnership program for digital marketing agencies with the drive to perform at peak effectiveness. Working with such an agency affords you significant benefits. Here are a few:


1) Assurance of Expertise
Not every agency achieves HubSpot certification. To receive certification, agencies and staff must pass a series of tests and demonstrate expertise in digital marketing strategies. HubSpot places agencies in tiers using a combination of metrics, looking at monthly recurring revenue (MRR) acquired and managed, retention, software engagement, and actual inbound marketing success. This means that agencies who achieve HubSpot certification have demonstrated their effectiveness as digital marketers.


2) Access to More Inbound Resources
With direct access to the best technologies and resources for inbound marketers available today, HubSpot certified agencies know how to use their resources to solve your marketing problems. For instance, agencies with a Growth Driven Design certification are experts in cutting-edge web design technologies that incorporate growth-driven design.


3) Built In Tracking and ROI Proof
HubSpot agencies excel at designing campaigns that can be tested and tracked over time, ensuring that your campaigns are constantly optimized for maximum ROI.


4) Savings of Time and Money
As has been said many times, digital marketing has multiple moving parts. HubSpot certified agencies employ experts in all forms of digital marketing. These experts can quickly produce content, write marketing copy, manage social media campaigns and optimize your website design. An agency assigns team members to work on all these things simultaneously, saving significant time and money.