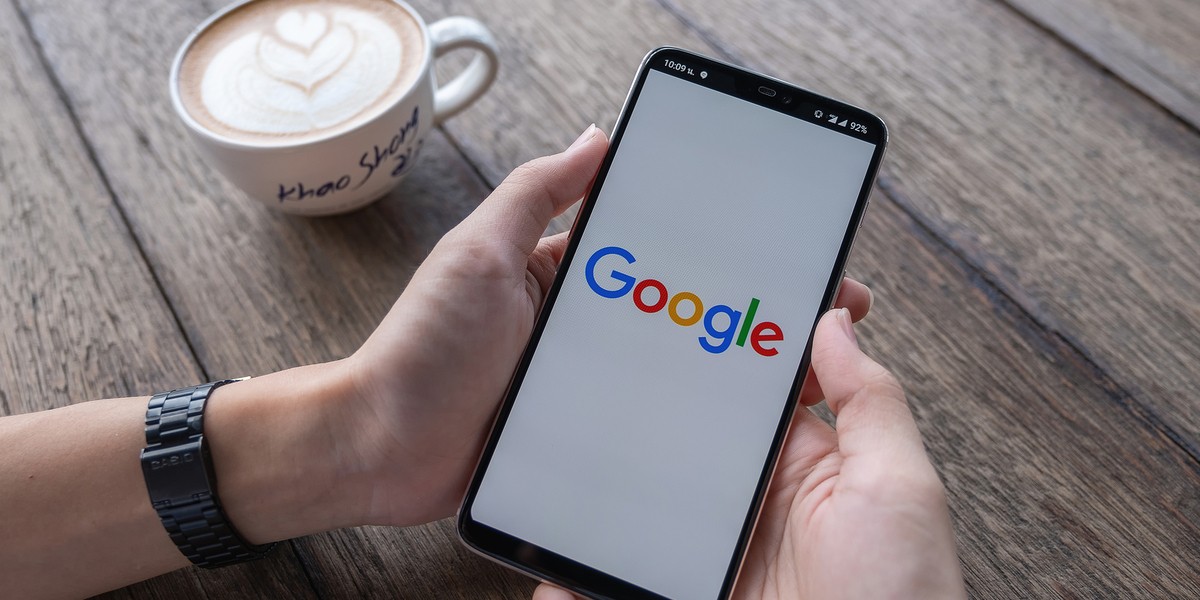 A common digital marketing goal is to rank #1 for a high-value search term that will bring in a lot of traffic and potential conversions. However, Google has thrown a wrench in some of the best-laid digital marketing plans and now has what is referred to as "position zero" with featured snippets.
A Google featured snippet shows up just below the paid ads and above the organic search results. Not only do these snippets benefit the searcher by giving them some of the information they're searching for, but capturing this position can be beneficial for your digital marketing strategy.
Here's a look inside Google's featured snippets, including why they were created and how the search engine giant determines what will be featured.
Google Updates Meant to Improve the User Experience
Each time Google rolls out an update, it is meant to improve the search experience for the user. This is the motivation behind periodic algorithm updates as well as most new features that the search engine introduces.
When spammy and unethical websites began to dominate the search engine rankings, Google rolled out the Panda and Penguin updates. To better understand the user's intent, it introduced the Hummingbird update.
In keeping up with changing times, Google introduced two updates called Pigeon and Possum that targeted improvements in local search. The percentages vary, but most now agree that a majority of web traffic now comes from mobile devices. This was one of the catalysts for featured snippets.
Why Google Featured Snippets Exist
Google had been experimenting with "Quick Answer" boxes in the search results as early as 2013. However, many of its entries didn't cite a source or have a link back to a company's website.
This changed in 2016 when Google officially named the program "Featured Snippets," with the source pulled from the top 10 listings for a term along with a link provided for more information.
Google explained that the reason for featured snippets was the growing use of mobile and voice search, where a user needed a quick and definitive answer to questions like "How do I set up a router?", "Who holds the record for most cheeseburgers eaten in one sitting?", or "How does a solar eclipse work?"
Beyond being useful for mobile search, Google just wants to provide the most relevant and valuable information to searchers in general - no matter what type of device they're sitting in front of or holding.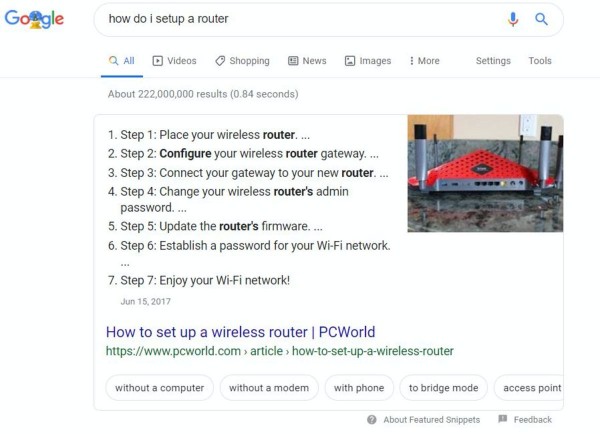 Your Opportunity With Featured Snippets
In 2018, Google published a post titled, "A reintroduction to Google's featured snippets." The search engine addressed concerns from publishers about potentially losing traffic by giving visitors all of the information on the search results page.
According to Google, featured snippets do drive traffic to websites, meaning they are a golden opportunity for publishers. Even if a featured snippet is used in voice search, Google cites the page source and provides a link to the source in the Google Home app so the visitor can click to learn more.
Take the example above with the router instructions. Some searchers might get what they need from that, but there's only one image included with a featured snippet. More searchers are likely to click through to the website for the instructions with detailed illustrations.
How Google Decides Who Gets a Featured Snippet
There is no definitive answer to how you can land a featured snippet because Google doesn't share its ranking factors. However, some people have made careers out of studying the search engine giant's methods and underlying motives for its decisions.
Most featured snippets answer questions like who, what, when, where, how, and why. They show up at the top of the search results in several main forms:
Paragraph - This is the most common type of featured snippet that can answer any of those questions a searcher has.
List - A numbered or bulleted list can provide step-by-step instructions for a recipe, to fix something, or to complete some other task.
Table - Tables are excellent for comparison charts, particularly ones that show numerical data.
Video - Video is the latest type of featured snippet that might be pulled from your website.
You can increase your chances of getting picked for a featured snippet by anticipating the needs of a searcher and then answering questions using structured data. Some examples of information you can provide on your website include:
Product reviews
Business or industry information
Definitions of terms
Recipes
Assembly or troubleshooting steps
Event information
Scores
Weather updates
Pros and cons
Comparisons
Q&A pages
In 2019, Google released another Featured Snippets update meant to enhance the quality of this program further. Part of the update was a new algorithm intended to make the featured snippets that show up the most recent and accurate ones available. Some of the information that Google plans to focus on going forward includes:
Current events
Information that changes with time
Information that is regularly updated
This latest update is more relevant if you post information about events or products/services that require frequent updates, such as software versions. For example, Google doesn't want to show a featured snippet for a question about a marketing conference that gives information from a year or two ago. If you post evergreen content, you won't need to worry about these updates.
Google Featured Snippet Policies
Google does allow user input for featured snippets and has produced a list of policies that apply to the program. According to Google, featured snippets and the pages they refer to may not contain any content that is:
Hateful
Sexually explicit
Harmful or dangerous
Violent
Lacking consensus on public interest topics
While Google will remove a featured snippet for a variety of reasons, the rankings can be somewhat volatile. In other words, you might gain position zero for a search term one day and then find that it's no longer there the next. Many businesses discover that, once they've found a winning formula for attracting Google's attention, those rankings can become more stable.
There are plenty of ways to drive traffic to your company's website, but few are better than being at the top of organic search results in Google. Even if you're not number one on the list, landing a featured snippet for the right terms can give you another chance.
We strongly recommend targeting featured snippets as part of your comprehensive digital marketing strategy. If you're interested in learning more, contact us today.
Published on January 31, 2020
Last modified on February 1, 2020